Welcome to PAR Innovations
PAR Innovations is based in Greater Sudbury, Ontario and services clients globally. It was formed in 2002 by Paul Rantala to provide a platform for underground mine backfill consulting and develop mining products for the local mining market. Now, we market and Pipeline Pill Test and the Drift Scope Laser. These products have been used at hundreds of mine sites.
Contact us today at This email address is being protected from spambots. You need JavaScript enabled to view it. or by phone +1 (705) 522-7631 for more information on how we can benefit your operation.
The Pipeline Pill ™ and PSI Pill ™
The Pipeline Pill test is a proactive test used to diagnose an operating piping system. As the Pill travels freely in the fluid within the pipeline, it records pressure and from the Pill pressure data and known piping geometry information, a detailed analysis is performed.
Our patented devices and proprietary tracking systems allow for a pressure survey to be conducted of a pipeline system which is operating at steady state. Originally developed to troubleshoot underground mine backfill systems comprised of cascading boreholes and horizontal piping it has seen its use grow to other types of pipelines including a 170 km long surface pipeline in Chile. Typical applications have included: slurries, paste, bitumen froth, tailings, concentrate, concrete. Please contact us for information regarding the Pill and the Pill Test Service.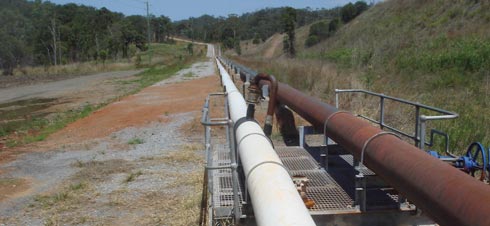 100 Pipeline Systems done to date
Hydraulic Fill, Paste, Water, Slurry, Bitumen Froth
Pipelines from 75 to 400mm diameter
Underground Distribution systems up to 2km deep
Surface pipelines 200km long
Locate :
Partial blockages
Changing pressure gradients
Changing velocities
Freefall / high wear regions
Sedimentation regions
Water hammer regions
Optimize:
By running multiple Pill tests with changes to flow rates, material properties or piping geometry, one can optimize operating conditions.
Click a photo above to view a larger image.
---
The Drift Scope Laser ™
Simplifying Surveying and Mining Tunnel Alignment
The Drift Scope Laser (pat.pend) was developed in 2002, to provide surveyors, miners and tunnel workers with a fast, easy to use and lightweight tool that sets up the alignment of the next drill development round.
It has a proven history of improving the speed and accuracy of shooting lines for tunnel advancement using a simple and effective method.
Currently used at over 100 operations and contractor development sites.
Click Here to visit the Drift Scope Laser website for more details.
Research Opportunities
PAR Innovations Inc. is always considering solving new challenges and old problems. .
Contact Details
PAR Innovations Inc.
Sudbury, Ontario
Canada
Phone +1 (705) 522-7631
Email This email address is being protected from spambots. You need JavaScript enabled to view it.